Purists are Boring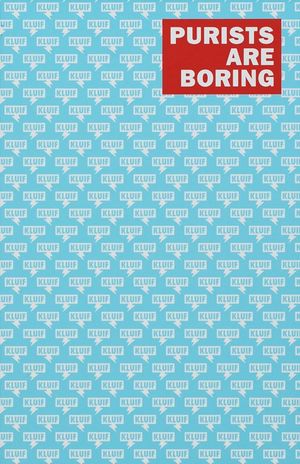 Work by Studio Kluif
€ 9,90
Niet op voorraad in Boxmeer
Dit artikel is niet (meer) leverbaar.
Beschrijving
Having worked for several years as designers for Oilily, in 1999, Paul Roeters and Jeroen Hoedjes set up Studio Kluif in 's-Hertogenbosch, the Netherlands. The work produced by Studio Kluif is very visual, expressive and illustrative. The design styles they have developed over the years are extremely versatile, as are their projects and their clients. Oilily, their previous employer, is now a loyal client, but Studio Kluif designs for many other major names, including HEMA, Porsche, Eager Beaver, Amsterdam ArenA, Nedap and the Royal Dutch Military Police.

This special monograph is the first to be published on Studio Kluif and includes a wide range of their work, including magazines, postcards, children's cookbooks, displays, clothing prints and packaging.
Detail product
Verschijningsdatum:
29-09-2006
Uitgever:
BIS Publishers BV
Isbn:
9789063691561
Uitvoering:
Gebonden boek
Gewicht:
665 gr
Hoogte:
218 mm
Breedte:
141 mm
Dikte:
26 mm
Aantal pagina's :
173
Taal: Engels