ss Australis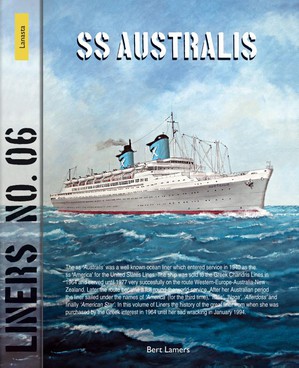 -
€ 14,95
Niet op voorraad in Boxmeer
Nog niet verschenen: reserveer dit artikel alvast.
Beschrijving
The ss 'Australis' was a well known ocean liner which entered service in 1940 as the
ss 'America' for the United States Lines. The ship was sold to the Greek Chandris Lines in 1964 and served until 1977 very succesfully on the route Western-Europe-Australia-New Zealand. Later the route became a full round-the-world-service. After her Australian period the liner sailed under the names of 'America' (for the third time), 'Italis', 'Noga', 'Alferdoss' and finally 'American Star'. In this volume of Liners the history of the great liner from when she was purchased by the Greek interest in 1964 until her sad wracking in January 1994.
Detail product
Verschijningsdatum:
30-05-2019
Uitgever:
Lanasta
Isbn:
9789086162567
Uitvoering:
Ingenaaid boek
Aantal pagina's :
56
Taal: Engels