1 Global perspectives on cross-border insolvency lawInternational insolvency law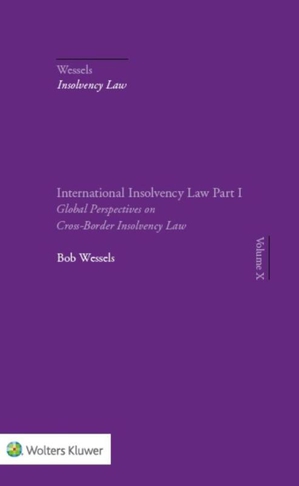 € 114,50
Niet op voorraad in Boxmeer
Op werkdagen voor 17.45 uur besteld: morgen kosteloos in de winkel afhalen of voor €3,95 thuisbezorgd.
Beschrijving
Wessels International Insolvency Law aims to be a first port of call on any question on international insolvency law for specialists (such as practitioners, judges and scholars), but also for those who are rather new to the subject, including legislators and students. The present book is International Insolvency Law - Part I Global Perspectives on Cross-Border Insolvency Law. The second part will be International Insolvency Law: Part II European Insolvency Law, foreseen for publication in 2017. Both will form the fourth edition of its original version. International Insolvency Law Part I contains three themes. Chapter I starts with a detailed account of topics which nearly always emerge from cross-border insolvency cases and continues the debate on principles and new dogmatic and pragmatic approaches to issues and disputes on international insolvency law, including several remarkable court decisions. Regional conventions (in Latin-America, the Nordic European countries, the OHADA Treaty in Central Africa) have been explained and several of the 'soft law' sources have been described. These include best practice rules from organizations such as INSOL International and UNCITRAL's Legislative Guide on Insolvency Law, including its recommendations for the treatment of corporate groups, and the use of Protocols or cross-border insolvency agreements. In Chapter II the status of international insolvency law in the Netherlands has been updated. Despite the EU Insolvency Regulation being applicable to intra-community cases since May 2002, Articles 203-205 of the Dutch Bankruptcy Act remain relevant for cross-border cases with third-(non-EU)countries as will the general application by courts in the Netherlands of private international law, as demonstrated in cross-border legal disputes related to the insolvent Russian corporate giant Yukos Oil Company having shares in a company, incorporated in the Netherlands, which holds large assets in several countries. In Chapter III in this third edition the main topic is the UNCITRAL Model Law on Cross-Border Insolvency of 1997 and the consideration to weigh when a State is in the process of enacting it. The analyses of the Model Law could be broadened and deepened with a short analysis of some fifty USA and UK cases and a selection of the ever growing literature, mainly from sources in the USA and the UK. The law is stated as per August 1, 2015. A comprehensive bibliography and a list of relevant websites is included. This book (in English) also appears as Volume X in the (Dutch) series Wessels Insolventierecht. Obviously, International Insolvency law Part II European Insolvency Law provides an extensive treatment of the Regulation (EU) 2015/848 of the European Parliament and the Council of 20 May 2015 on insolvency proceedings (recast), which shall enter into force 26 June 2017.
Detail product
Verschijningsdatum:
22-06-2016
Uitgever:
Wolters Kluwer Nederland B.V.
Isbn:
9789013132243
Uitvoering:
Gebonden boek
Gewicht:
1289 gr
Hoogte:
251 mm
Breedte:
170 mm
Dikte:
44 mm
Taal: Engels