Change Ahead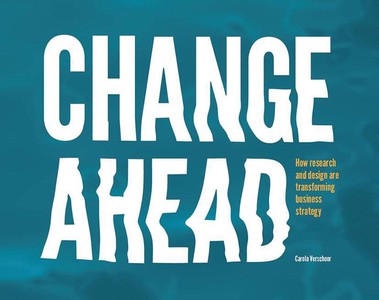 How research and design are transforming business strategy
€ 35,00
Niet op voorraad in Boxmeer
Op werkdagen voor 17.45 uur besteld: morgen kosteloos in de winkel afhalen of voor €3,95 thuisbezorgd.
Beschrijving
Change Ahead is about the emerging practices at the intersection of business strategy, research, and design. It introduces the need for an adventurous, explorative mindset in order to grow businesses that last by creating meaning and relevance with and for people.

In a complex and networked world, business, more than ever, is about adaptability to change and the capacity to create new propositions through a dynamic interaction with the environment. Much like sailing, business strategy will increasingly come to be about the ability to steer towards growth through dynamic leadership, empathetic understanding, and skilful use of tools and abilities.

This book reveals the philosophy, working processes, and approaches to business creation and development through research and design. It provides a model for integrating user insights into business strategy beyond the literal understanding of the user and into the creative application of insights for the development of meaningful propositions.

It is a must-read in these changing times because it discusses what needs actualization as we emerge out of the industrial model into an age of creative empowerment. Furthermore, it goes beyond the discussion to provide practical tools for businesses in the 21st century to evolve into adaptive systems through an integrative model of learning and doing, understanding and making, research and design. Change Ahead is about the transformative power of research and design within business practice for relevant value creation in a changing world.
Detail product
Verschijningsdatum:
21-09-2015
Uitgever:
BIS Publishers BV
Isbn:
9789063693985
Uitvoering:
Ingenaaid boek
Gewicht:
853 gr
Hoogte:
243 mm
Breedte:
190 mm
Dikte:
23 mm
Aantal pagina's :
240
Taal: Engels