Pro Stress #2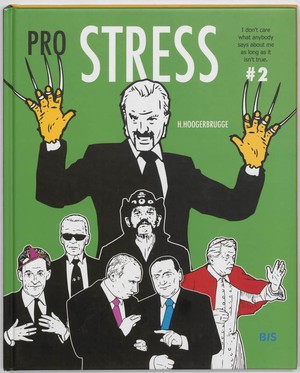 € 19,00
Niet op voorraad in Boxmeer
Dit artikel is niet (meer) leverbaar.
Beschrijving
This is the second album of Pro Stress, the hilarious but also sometimesuncomfortable daily comic by Han Hoogerbrugge. In the work of draftsman/animator Han Hoogerbrugge, the artist wrestles with humour ineveryday life and investigates his obsessions, neuroses and emotions.
Stress is one of the emotions with which Hoogerbrugge thrives well on, in contrast to most people. Stress gives him a kick, making him able to do manythings at once, achieving a workflow in which many new ideas crop up.

Pro Stress #2 collects over 200 new short cartoons in which Hoogerbruggeobserves the world, in delightfully humorous fashion. Besides the protagonist, who has always been an alter ego of Hoogerbrugge himself, thecomics depict such famous figures as Sylvio Berlusconi, Vladimir Putin, Karl Lagerfeld, the Pope and many more, playing their parts alongside to theheroes from the first volume of Pro Stress, like David Lynch and Quentin Tarantino.

Detail product
Verschijningsdatum:
15-09-2011
Uitgever:
BIS Publishers BV
Isbn:
9789063692735
Uitvoering:
Gebonden boek
Gewicht:
782 gr
Hoogte:
308 mm
Breedte:
250 mm
Dikte:
16 mm
Aantal pagina's :
95
Taal: Engels