Somethink completely different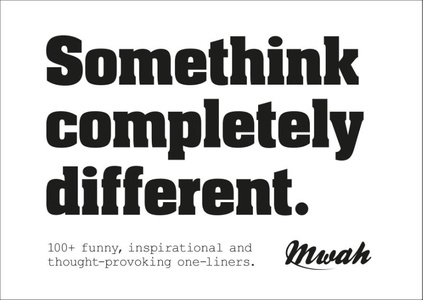 100+ funny, inspirational and thoughtprovoking one-liners
€ 10,00
Niet op voorraad in Boxmeer
Dit artikel is niet (meer) leverbaar.
Beschrijving
Somethink completely different is about playing with words differently, making you smile differently, textually inspiring you differently and inviting you to contemplate things in a slightly different way. Text artist Mwah has created his own distinctive signature by getting to the core of situations and emotions and turning them into creative and witty one-liners that are recognizable, yet fresh at the same time.

"They should have never passed Murphy's Law."
"All that copying really imitates me."
"Distance, it's something between you and me."
"Waking up early sounds pretty alarming to me."
"Even if you can't spell history, you can write it".
Detail product
Verschijningsdatum:
22-12-2014
Uitgever:
BIS Publishers BV
Isbn:
9789063693749
Uitvoering:
Gebonden boek
Gewicht:
177 gr
Hoogte:
153 mm
Breedte:
112 mm
Dikte:
15 mm
Aantal pagina's :
112
Taal: Engels