Windows Powershell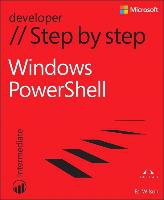 Step by Step: Intermediate
Niet op voorraad in Boxmeer
Nog niet verschenen: reserveer dit artikel alvast.
Beschrijving
This is today's definitive hands-on guide to automating Windows setup, deployment, and management with Windows PowerShell. Microsoft senior consultant Ed Wilson ("The Scripting Guy") fully illuminates every key PowerShell technique -- especially the major improvements and new cmdlets introduced with PowerShell 5.0.
Wilson's positive and humorous approach has made him one of the world's most popular PowerShell instructors. His practical examples and insights will help you maximize productivity and quality in all your IT operations, and integrate automated workflows throughout any traditional or cloud environment.
Windows PowerShell Step by Step, Third Edition offers more labs and structured learning exercises than any other PowerShell 5.0 tutorial. Wilson guides you step-by-step through building every script he demonstrates. He reinforces key concepts with step-by-step exercises, including "One Step Further" exercises that deepen your understanding, so you can solve your unique problems. All examples and starter files are downloadable at the TechNet Script Center Script Repository. Coverage includes:
Basic PowerShell concepts and cmdlets

Key providers: Alias, Certificate, Environment, File System, Function, Registry, Variable, and WSMAN

Remoting, jobs, scripts, functions, and modules

Windows PowerShell ISE and snippets

Creating, organizing, and running PowerShell profiles

WMI: objects, namespaces, providers, classes, and queries

Remoting WMI and calling WMI methods via CIM

Automating Active Directory and AD Domain Services

Debugging scripts and handling errors

Defining complex workflows

Using Desired State Configuration (DSC) to quickly enforce or restore configuration settings

Finding and using the PowerShell Gallery's powerful new resources
Each chapter concludes with a convenient quick reference, and Wilson presents detailed appendices on coding conventions and regular expressions. If you're upgrading from any earlier version of PowerShell, a new "Start Here" section identifies the most valuable PowerShell features you haven't already learned, so you can focus your efforts where they'll make you most productive.
Detail product
Verschijningsdatum:
01-01-2015
Uitgever:
Intertaal
Isbn:
9780735675117
Uitvoering:
Ingenaaid boek
Gewicht:
1074 gr
Hoogte:
229 mm
Breedte:
187 mm
Dikte:
56 mm
Aantal pagina's :
629
Taal: Engels